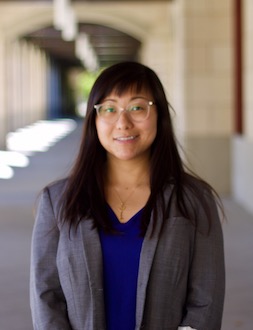 Growing up, Leanne was mesmerized by mathematics and loved solving puzzles with her grandfather. She attended the Toronto-based
TOPS Program
in high school and enjoyed (perhaps more so than the regular curriculum) participating in activities such as bridge and the Rubik's Cube Club. She found her affinity for chemistry while attending Queen's University and was able to combine these two subjects in an NSERC-USRA project, a collaboration between
Nicholas J. Mosey
and
Suning Wang†
. She decided to continue pursuing her interest in Computational Chemistry during her PhD at Stanford University, where she focused on unravelling the discharge mechanisms of batteries and the second-order effects of electrolyte in catalysis under the tutelage of
Jens K. Nørskov
. She then moved to the California Institute of Technology for her Postdoctoral Scholarship and further augmented her training in the group of
Thomas F. Miller III
. She is very pleased about returning to Canada to start her independent career. In her spare time, Leanne enjoys taking photos, playing the piano, and finding ways to be creative in all aspects of life.
Chelsea D'Cruz
Undergraduate Researcher
Chelsea is currently a third year international student majoring in Biological and Pharmaceutical Chemistry at the University of Guelph. Moving from the bustling concrete jungle of Dubai to the quaint student town of Guelph has been both an exciting and challenging experience for her, but the exceptional faculty and students on campus have helped ease the transition. Her interest in Chemistry began during high school where she was fascinated with looking at the most simple reactions on a molecular level, and how these reactions impacted every aspect of daily life. At the University of Guelph, she is a part of the co-op program, integrating these chemical principles into relevant work experiences; to date, she has worked in Quality Assurance in both pharmaceutical and food industries as well as R&D for a startup beverage company. In her free time, she enjoys learning how to cook, watching crime documentaries, and trying out Canadian snacks.
Siobhan Liu
Undergraduate Researcher
Siobhan attended Ryerson University to pursue a degree in Medical Physics—at least, that was the plan until she found her passion for Chemistry. Much of her undergrad career was spent building the foundations and branding of her club,
Ryerson Esports
, rather than actually studying. After several guest lectures by her eventual undergraduate thesis supervisor,
R. Stephen Wylie
, Siobhan realized she was interested in computational chemistry more than traditional synthetic fields. Despite this, she was recruited by her unofficial co-supervisor,
Daniel A. Foucher
, to work on testing antimicrobial polymeric coatings (which is completely unrelated to her actual thesis). When she is not cheating by time travelling on her Animal Crossing save file, Siobhan enjoys being an oolong tea snob and collecting enamel pins.
The Akita Inu was made famous by the true story of Hachikō, also retold in the Futurama episode "Jurassic Bark" (likely better known as the most heartrending moment of all time). Michi may be young, but he is already quite willful.
Princess Peach is a rescue from the Guelph Humane Society. She is exceptionally well-mannered and enjoys basking in the afternoon sun.