Ongoing
We are hiring! The Computational Electrochemistry Lab is seeking highly motivated BScH, MSc, and PhD students to work in the areas of energy storage and environmental catalysis starting Summer 2020. Previous computational experience is helpful, but not essential. Contact Leanne for more details about available projects. MSc and PhD students: please check out the GWC2 for more information about the application process.
May 4, 2020

Welcome to our newest members, Siobhan Liu and Chelsea D'Cruz!
March 10, 2020

Leanne visits the Department of Chemistry at Waterloo and gives an invited theory seminar. A big thank you to her faculty hosts Prof. P-N Roy and Prof. Marcel Nooijen! Great discussions were had all around with computational and experimental researchers.
March 4, 2020

It only happens every six years—CSTCC 2020 and WATOC 2020 are back-to-back this summer in beautiful British Columbia. Check out the just-released Invited Speaker Roster for CSTCC, where you will find superstars like Alán Aspuru-Guzik and Erin Johnson along with young(er) researchers at the start of their careers (including Leanne herself).
October 30, 2019

Our manuscript on elucidating the double layer charging effects for Au-catalyzed CO2 reduction has just been accepted for publication in Nature Communications! Congratulations to all involved!
October 29, 2019

It's Recruitment Season at the GWC2! Here Leanne is engaged in discussion with the University of Waterloo's Prof. Klinkova.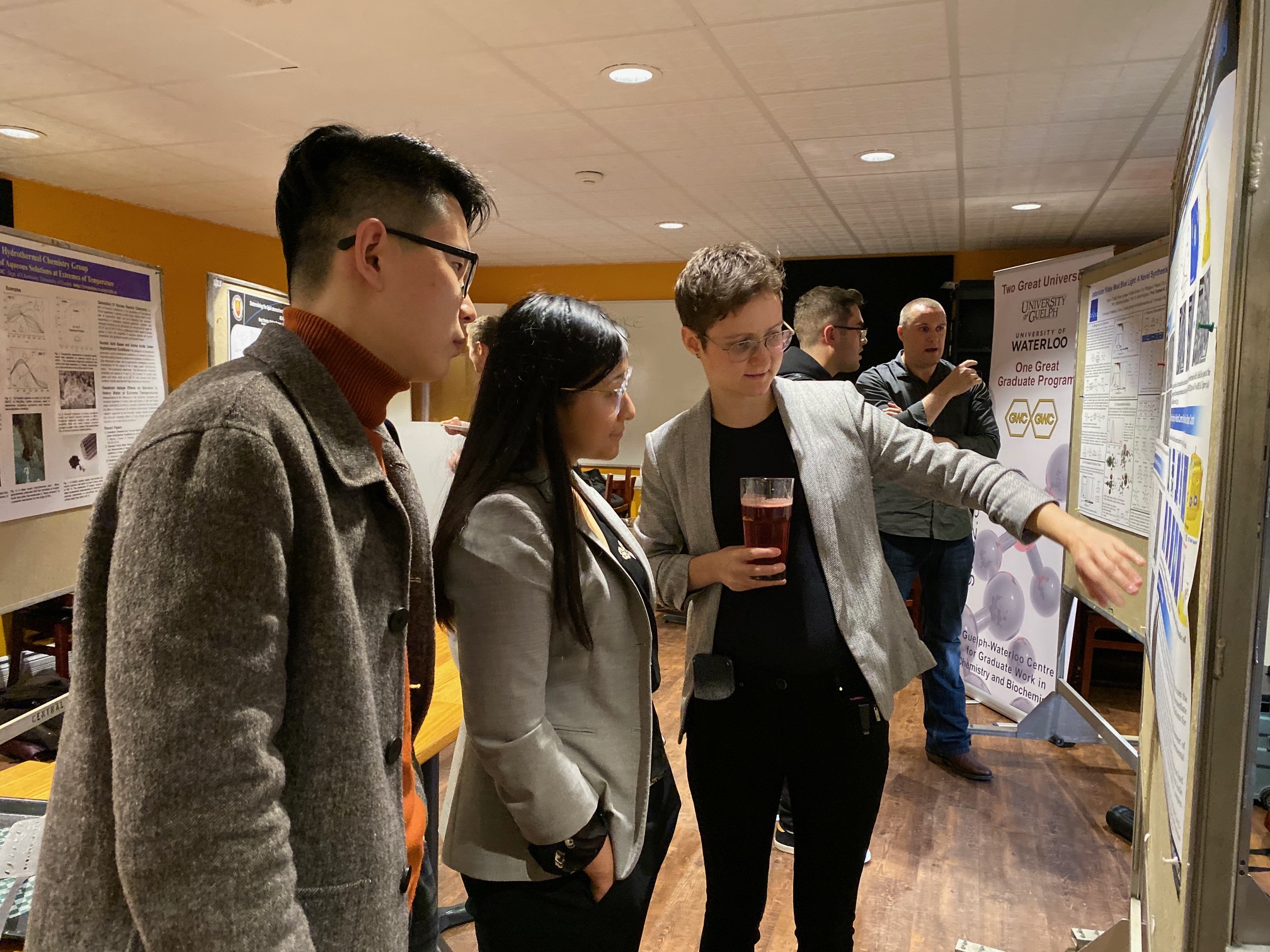 October 11, 2019

Leanne gives an invited talk to the Yoo Group at the University of Seoul in South Korea.
October 8, 2019

Leanne visits the Multiscale Design Lab at the Korea Advanced Institute of Science and Technology and gives an invited talk. Thanks to Dr. Stefan Ringe and Prof. Hyungjun Kim for being fantastic hosts!
August 22, 2019

Leanne gives an invited talk at Lawrence Livermore National Laboratory in Livermore, California. Many thanks to the Quantum Simulations Group for the stimulating discussions!
August 19, 2019

Leanne reconnects with a former colleague from graduate school! She gives an invited talk to the Materials Discovery Team on her visit to the Toyota Research Institute in Los Altos, California.